June 2021
Announcing the neurodiverse composers that will premiere graphic scores at our 'Music for a Better World' event
We are delighted to be commissioning five brilliant composers from Cornwall for our Scores of People: Music for a Better World project. The group of neurodiverse musicians and artists worked with us on last year's Scores of People project, and will be creating new pieces to coincide the Cornwall G7 Summit. The G7 Summit is an important meeting of seven world leaders including the President of the USA, and the UK Prime Minister, happening in Cornwall in June – they will talk to each other about how they can work together to make the world a better place.
In a graphic score symbols, pictures and colours give clues about the music. They can be clues about pitch, speed, time, structure, style of playing, feeling, or anything the composer wants to get across. The scores can take the form of anything from drawings, text, collages and paintings to photographs, animations or sculptures.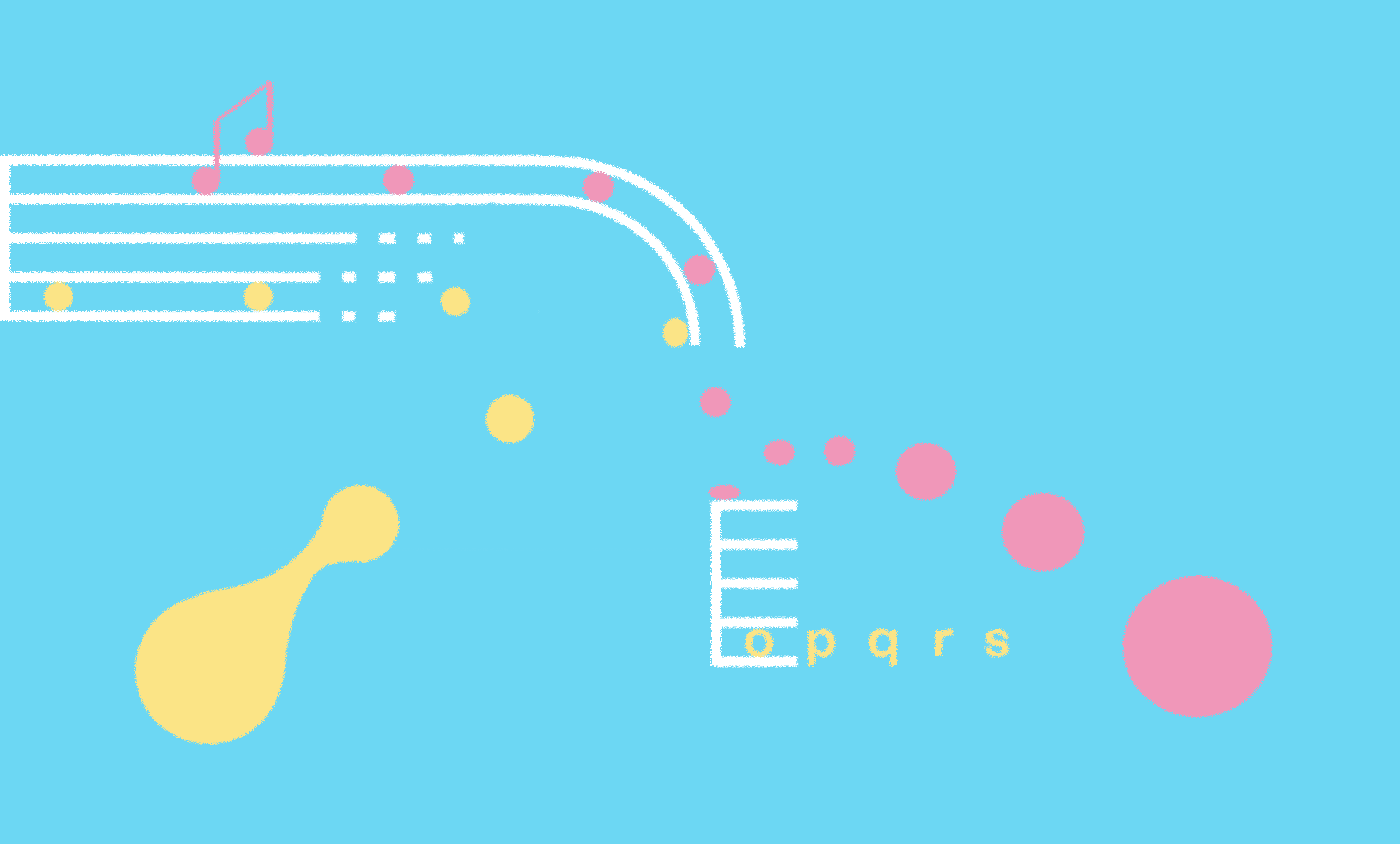 The composers have been commissioned to create graphic scores based on the themes of the summit: tackling climate change, the global recovery from coronavirus and championing free and fair trade. Using those graphic scores, the public will be invited to improvise music on specially created 'noise stations' at an all-ages event to be held in Cornwall during the summer (details coming soon).
The composers are:
Kate Perry
Kate spends much of her time making drawings and screenprinting. Her arts practice also includes singing, dancing, writing and musical theatre. Kate has also been involved in many arts projects including Shallal, APEX Arts, Inland Art Festival and Chacewater Players.
Eddie Callis
Eddie is a musician (singer/ songwriter / harmonica player) and artist living in Cornwall who is on the Autism Spectrum. He uses his art and music to express his emotions and feelings. He is in the band, The Travelling Time-Wasters. Eddie collaborated with musician Kyle Coleman on a project called AUT2, and co-writes/performs songs for Shallal Dance Theatre. Eddie is also a visual artist, including portraits, landscapes, ceramics, installations and video.
Kyle Coleman
Kyle has autism and is non-verbal. He is a musician who has recorded a number of songs that have had extensive airplay, press (BBC, CNN), and online streaming. His debut album was recorded with support from National Autism Society and had 200,000 YouTube hits in 2 days. Kyle has performed at a number of concerts and festivals.
Oliver Goulding
Oliver has autism, cerebral palsy, hearing difficulties, and uses a wheelchair. He is a musician who sings and plays a number of instruments including guitar and electronic instruments. He performs a lot on the streets. His recent single was written and recorded during lockdown and was praised and shared by Robert Smith of The Cure.
Rory Bray Harper
Rory is a young artist/musician living in Camborne. He has worked on creative projects with APEX Arts, exhibited at Krowji for open studios and has a radio show with KMF Radio. He has recently made two sets of books, one is called Fantastic Machines and the others are called Mythical Creatures – books 1 & 2. Rory was recently awarded a BBC New Creatives commission for an audio project, which is an alternative guide to Tehidy woods. He enjoys writing song titles for imaginary songs and has exhibited these with APEX as part of Inland Art Festival. Rory has also created interactive sound sculptures.
You can take part in the final event!
We will soon be announcing the event that will be the finale of the project, and you can take part. Using the graphic scores created by the five artists, you will be invited to improvise music on specially created 'noise stations' at a free all-ages event to be held in Cornwall during the summer.
To find out how you can get involved, and to see the project progress, you can click here: https://moogiewonderland.co.uk/category/art-projects-medway/scores-of-people/music-for-a-better-world/
To start things off, Rory Bray Harper is developing a series of graphic scores to give you an example of the work the composers will be doing, and to inspire you to create graphic scores too (click here to find out how you can get involved). Rory's graphic scores are based on 'machines that can save the planet' – look out for a blog post about his work soon, which will include how he is developing the initial idea he had below:
Rory says: "My graphic scores are actually machines that clean and pick up rubbish, including microplastics, dog poo and shopping trolleys that lazy people can't be bothered to put back. One of the graphic scores even has a rocket to clean up rubbish in space!
"People could make music where they imagine pressing the buttons on the machine and make sounds based on the cleaning task it then does."
"The machine in the graphic score helps the environment because it cleans up everything, picks up smelly piles of dirties off the floor, and hoovers things up. If you don't the whole place will be stinky. And we should take the shopping trolleys back to the shop. It helps everything around your neighbourhood."
"I'm excited about the project because I want to find out what other people think about this project and it helps everything about the environment."
When Scores of People launched last year, it had an online focus due to the pandemic, but it still captured peoples' imagination and, following coverage from The Guardian and BBC Radio 6 Music, whose Lauren Laverne championed the project, hundreds of scores were submitted from all over the country.
"Timing this new programme to run in parallel with the G7 was too good a chance to miss," explains Elizabeth Howell, co-director of Moogie Wonderland. "Throughout history, music has been commissioned for globally important events such as coronations or world fairs. We're really excited that, when all eyes are on Cornwall, we're commissioning a talented group of neurodiverse local artists and musicians to compose pieces that will be relevant to everyone, and that can be performed by anyone regardless of whether you are a musician or not. With children around the UK being able to submit their own graphic scores, too, the project will give everyone a voice in the topics of the summit, such as climate change. It's important that discussions about things that affect us all, include us all – and making music is a great way to express yourself."
What do we mean by 'neurodiverse'?
Our project celebrates and champions the work of neurodiverse artists. However, you may not yet be familiar with the term. To help explain, the website mindroom.org says:
"We all have different brains. This is neurodiversity… Neurodiversity means there is a wide variation in brain processes. Neurodiversity causes differences in individuals' experiences and behaviours. Sometimes this creates a big enough difference to correspond with a label such as autism or ADHD (attention deficit hyperactivity disorder). If you experience a barrier to learning, you may be neurodivergent."